How To Use Stock Photos For Instagram
Tapping into time-saving resources like stock photos for Instagram is how savvy business owners are winning at their social media strategy.
But you might be wondering: What if I want to add some of my own photos into my feed? How can I blend them in with Wellness Stock Shop images and maintain the beautiful, naturally polished look?
Or maybe you're thinking: I'm not a professional photographer, won't my photos look ugly next to stock photos?
Or even: Can I still maintain an authentic feed using stock images?
Personally, I think it's important to sprinkle in an occasional selfie or behind-the-scenes shot in order to maintain a more personable connection with your followers.
Here's what you'll learn:
The #1 most important ingredient for a good photo (pssst... it's super simple, but no amount of editing will fix this if you get it wrong)
My favorite photo filters to give your snapshots a beautifully (natural) polished look
How to create a balanced Instagram feed so that your own snapshots blend beautifully with stock photos
Psst... If the mention of "selfies" and sharing your own photos prompts a mini heart attack, just breathe friend.
I've got some easy tips you're going to love.
Before we get to the editing bit, we need to have a heart-to-heart. No photo filter will fix ugly lighting.
This is the #1 most important thing you need to get right when taking your snapshots.
If you use poor lighting, like indoor lamp light or on-camera flash, there is no way to fix your photo. It will simply look ugly.

Please raise your right hand and commit here + now to only ever use natural lighting for your photos.

PRO TIP: Natural window light creates a beautiful, soft look for your photos.
In order to blend your snapshots naturally with stock photos, you'll want to match the finish of the image you're using as closely as possible.
BTW, pro photographers always apply a filter (also called presets) to their photos.
You'll want to try to match that finished look on your snapshot.
Personally, I don't recommend using any filters inside the Instagram app. They're outdated and often give your photo a "muddy" look.
Instead, I recommend using an editing app such as A Color Story.
Even a light filter with the slightest adjustments to contrast and brightness can transform your photo.
You'll be amazed by the difference it makes.
PRO TIP: If you're trying to blend your photos in with Wellness Stock Shop photos, you'll want to choose filters that are minimal with a natural feel.
Get access to 8,000+ Real and authentic stock photos and social graphics to grow your business.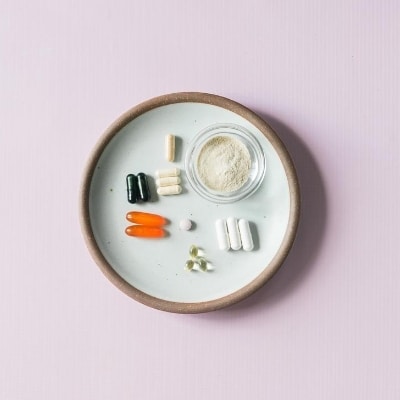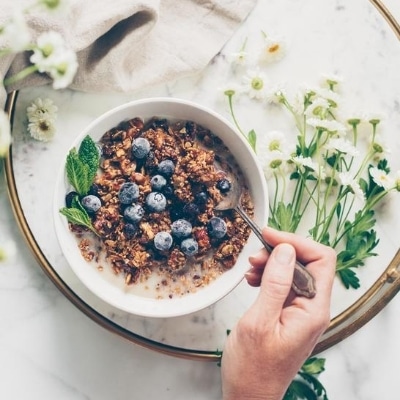 Sprinkling personal shots evenly throughout your feed creates a balanced look.
As a general rule, you want to avoid posting several of the same type of photo in a row, or stacking them one on top of the other. This causes congestion.
Need some help with your feed? Check out these 5 popular Instagram grid layouts.
Check out how health coach, Donna Parker, sprinkles her own snapshots with Wellness Stock Shop photos to create a beautifully balanced feed.
The snapshots wouldn't look super intriguing on their own, but blended into a feed full of 

high quality photos for Instagram

, her overall gram has gotten a major quality boost!
PRO TIP: Make sure all the images you use match your branding look. Not only will this create a cohesive feed, it will maintain a more professional appearance.
Get Your Free Simple Social Planning Kit
→ Posting calendar + guide, plus gorgeous templates (post, quote, carousel, story and reel bundle) to customize for your Instagram and beyond.