The Best Pinterest Marketing Tips for 2022
Let's talk about one of the most deliciously addictive social platforms there is – Pinterest!
Did you know Pinterest is one of the biggest search engines in the world, next to Google and Youtube? That's what makes Pinterest one of the best ways to grow your blog traffic these days – especially without paying for ad placement.
Keep in mind, people may choose to skip Google and go straight to Pinterest to search for the answers they're looking for. I know I do when I'm looking for healthy recipes, essential oil diffuser blends and how-tos.
And right now, unless you're pinning your content with the right strategies, your ideal clients are clicking through to other people's websites instead of yours!
So if you're not already tapping into this amazing resource to grow your blog, it's time. And if you are already tapping into Pinterest? Maybe it's time to refresh your marketing strategy.
Pinterest recently made a major update to their algorithm.
Just like Instagram, the Pinterest algorithm is ever changing. This means the strategies that seemed to work before, like creating tons of pin images for your blog post, won't necessarily produce the same results as in the past.
Staying up-to-date on Pinterest strategy from the experts is important. That's why I've gathered the best Pinterest marketing tips for 2022 from top experts and bundled them up. right here for you.
These are the same strategies I've personally been using that have made Pinterest my second biggest source of traffic to my website.
Surprisingly, these tips are pretty simple. They're the basic foundation to growing a healthy, successful Pinterest account, so be sure to take note and apply these tips to give a healthy boost to your blog traffic.
Keywords should be the very foundation of your Pinterest marketing strategy. This is the number one way people will find your content!
But how do you find the best keywords for your pin descriptions?
It's actually super easy. Let me show you how…
Since Pinterest is a search engine, you can find your keywords right there at the source! Just start typing your topic or niche in the search bar and Pinterest will auto-generate hot search terms for you.
For instance, if you're a health coach, you could type "Healthy" into the search bar.
A dropdown will appear with auto-generated keyword terms…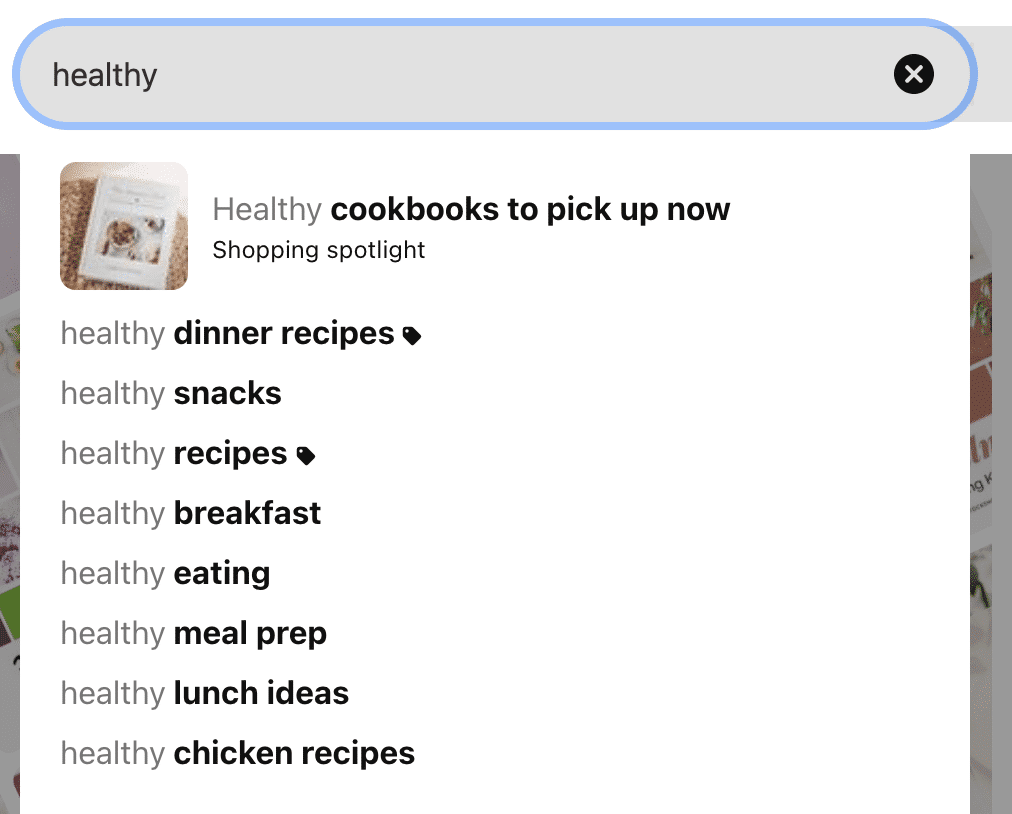 So, here's our first round of keywords...
…these are all hot keywords and are great to use.
But hold on a second!
The first keywords to pop up are super broad and will be tougher to rank in.
So, next you'll want to filter your search down to more niched keywords. To do this, type one of the resulting keyword terms you found, like "healthy snacks", into the search bar and see what else pops up…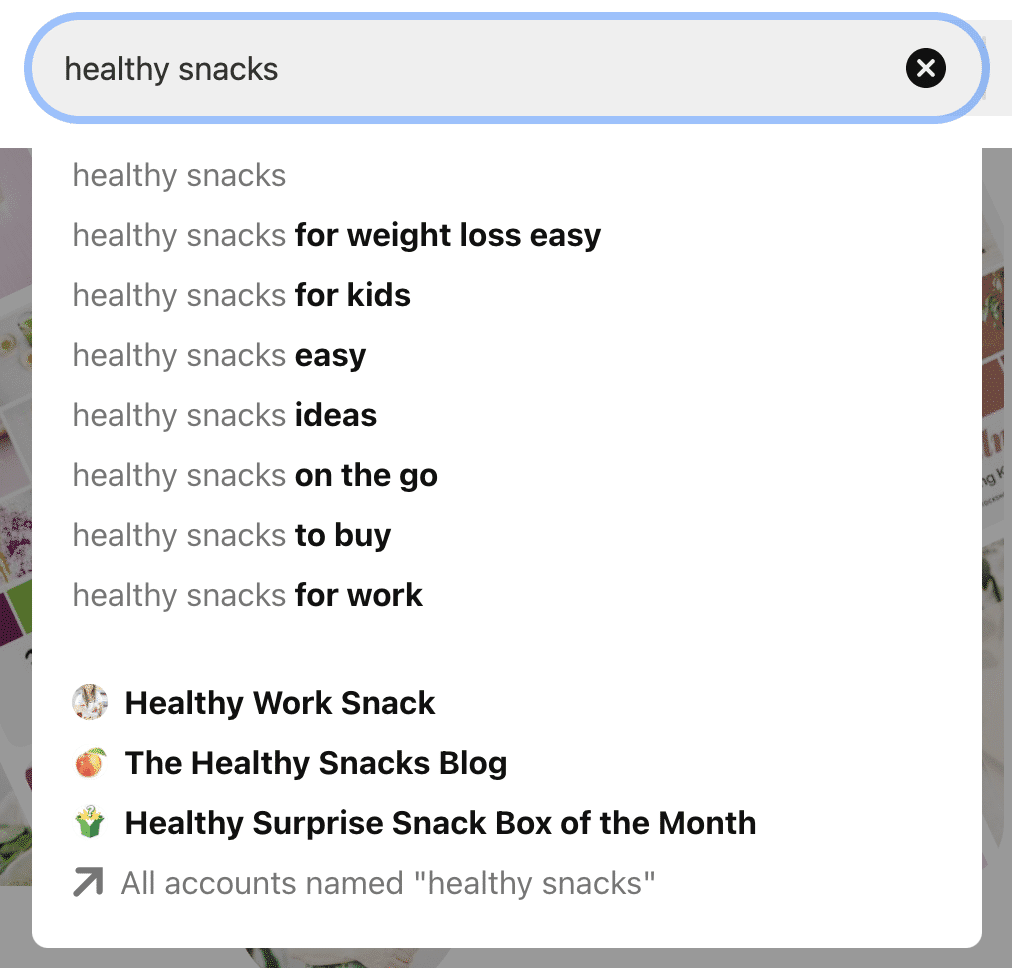 Now you have some filtered keywords...
healthy snacks for weight loss easy
Now we're getting to the good stuff.  These are more niched topics. The more niched your topic, the easier it will be to rank. These are all amazing keywords to use throughout your content.
Where to put your keywords?
2. Produce A Steady Flow Of Fresh, Strategic Content
One of the most important parts of growing on Pinterest is to pin fresh new content each week. This is super important! It's okay to connect new pin images to old posts, as long as you're spacing it out and continuing to produce fresh new pins each week.
PRO TIP: It's a huge time-saver to have 10-30 templates that you can easily plugin your title and images into to quickly create new beautiful pins. You can design your own in Canva, or tap into this affordable stock photo membership for an abundance of beautiful templates for Pinterest and beyond.
But, equally important, is to make sure your content is strategic. This means it needs to be high quality, packed with value, and it needs to be something your ideal readers are searching for!
But how do you know what people are searching for? Easy!
Your keywords will double as content topics! You'll follow the same steps to search for keywords (but we'll take it a step further).
This is where people often get things backwards – they write a blog post, then search for the perfect keywords.
Instead, I recommend you search for keywords first, then create your content based on those categories.
Next, we'll get smart and gather topic ideas from the top ranking posts within those keyword categories.
Here's my step-by-step process:
Step 1. Follow the steps above to find popular keywords.
For our example, we searched "healthy", and gathered the key phrases:
Healthy dinner recipes
Healthy snacks
Healthy recipes
Healthy breakfast
Healthy eating
...indicating that these are popular search terms.
Pro-Tip: Write down the topics that could be of potential use. These can be used as your topic categories and will also make great Pinterest board titles. You can do this with the broad keyword topics as well as the more niched topics.
Step 2. Next, click through to one of the provided topics, for instance "healthy snacks".
Check out the titles of the top pins on that board. These are the most popular pins under that category.
You can base your blog posts off of these!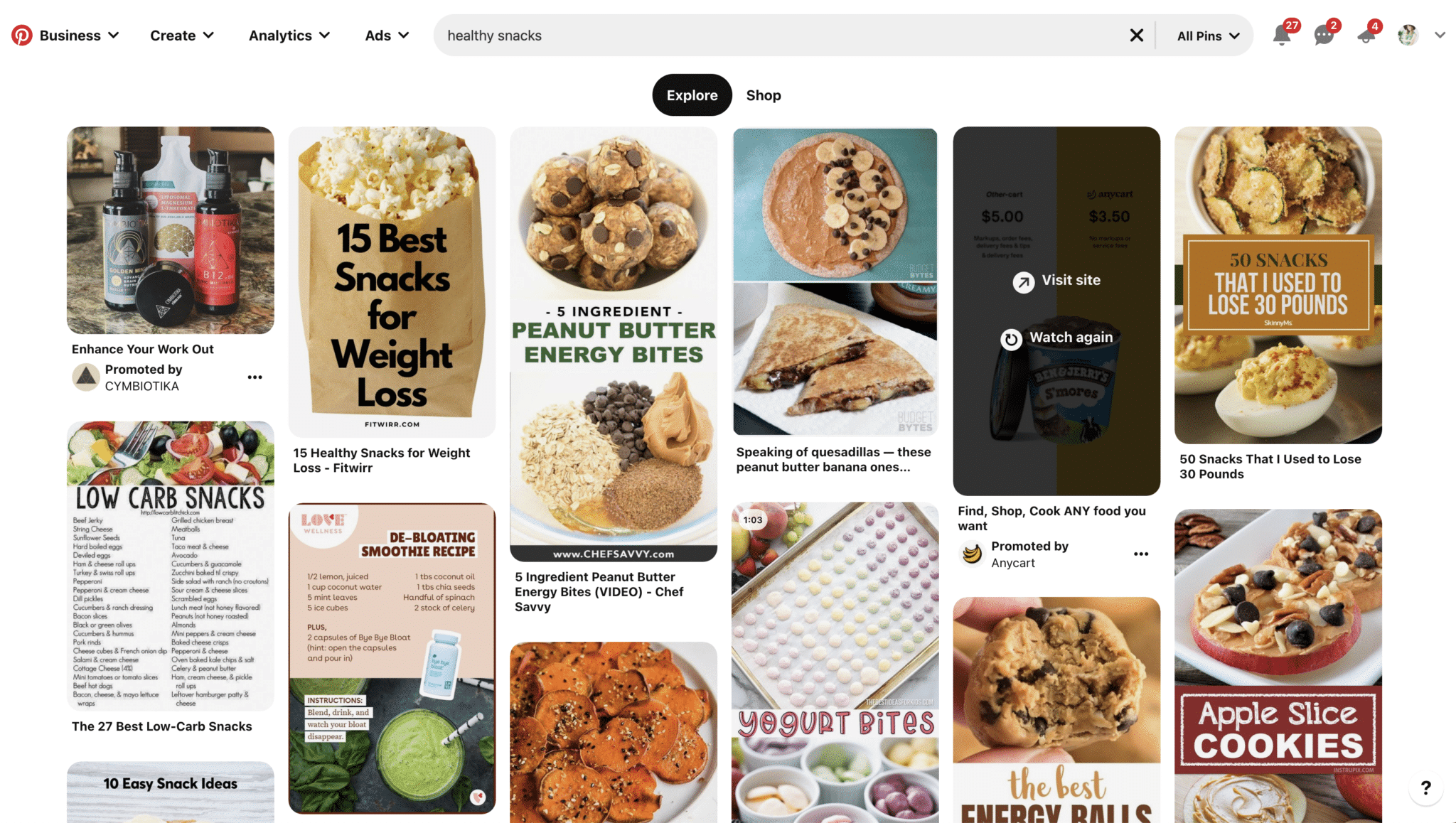 Here are a few popular post titles that popped up for "Healthy Snacks":
15 Best Snacks for Weight Loss

5 Ingredient Peanut Butter Energy Bites

50 Snacks That I Used To Lose 30 Pounds

The 27 Best Low Carb Snacks
Pro-Tip: Be sure to avoid any promoted pins which have paid ad placement rather than organic reach and won't help for this purpose.
3. Include An Irresistible Call-To-Action
In order to get people to click through to your post, you'll want to be sure to include a clear call-to-action in your pin description too.
Just like in any of your marketing, it's important to always guide people through the actions you want them to take. People might read your description and find it interesting, but they need you to tell them what to do next.
What's in it for them if they click through to your content? What will they find?
It's amazing how much a call-to-action will increase your engagement, pins, likes and click-throughs.
But how do you know which call-to-action is best?
Consider the ultimate goal of your content. For instance, are you sending people to your blog? Wanting to grow your email list? Just hoping for pins and likes?
A call-to-action could be:
Click through to see how I used X to achieve X
Pro-Tip: Don't forget to insert your blog post URL in the designated area to make the image clickable. Ideally, you'll send people to either:
A Blog Post
Your Sales Page/Offer
A Super Delicious Lead Magnet "Freebie"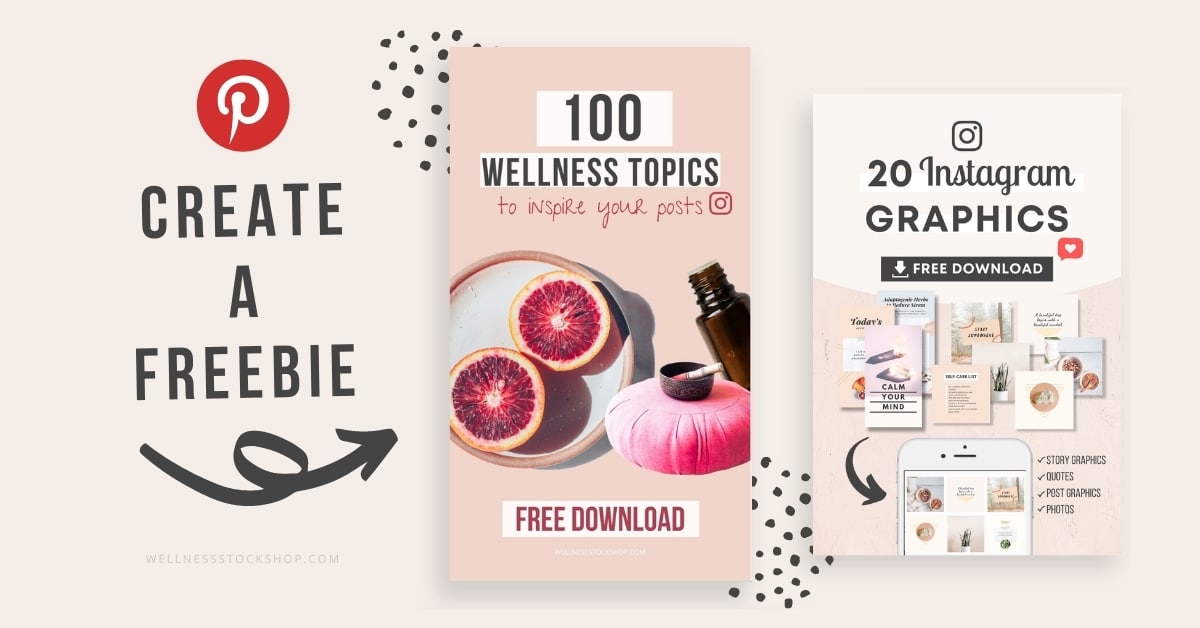 Freebies (aka lead magnets) work beautifully on Pinterest! Especially when packed with value and paired with stunning graphics. This is the best way to grow your email list, which can lead to more sales.
Pinterest users respond really well to freebies. You can create just one, or many different lead magnets. Some content creators create a unique freebie offer for each blog post. But don't get overwhelmed feeling you need to do that.
I recommend having 1-3 flagship freebie offers that are strategically designed to lead people to purchase a specific offer.
For instance, I offer a free Social Sampler with 20 beautiful photos and social media graphics. This free gift is strategically designed to give new followers a taste of what I offer.
Once they get a chance to test out the graphics, they receive several follow-up emails inviting them to join my photo membership where they get unlimited access to over 8,000 stunning photos, graphics and Canva design templates to use on Instagram, Pinterest, their website and beyond.
Ready to design an amazing freebie offer to start growing your audience? Get step-by-step guidance to design your irresistible lead magnet here.
5. Use Click-Worthy Graphics
Creating beautiful pins is an absolute must. Remember, Pinterest is a visual platform. And while I know not everyone is a designer, it's important to make beautiful graphics a priority if you want your pins to get noticed. It makes a big difference! (And I've got some tips for creating viral pins in just a bit.)
To create beautiful graphics, you'll need two things:
Stunning photos
Beautiful design templates
You can create these on your own or save a ton of time by tapping into done for you sources. Here's the best place to get photos and graphic templates for Pinterest.
Here are a few tips for designing viral Pinterest graphics:
Pick an eye-catching template (extra-long pins are doing particularly well right now)

Use a large, bold, easy-to-read font that grabs attention

Create a short, attention-grabbing title

Use colors that are inviting and not harsh

Choose a stunning, relevant photo
Creating beautiful Pinterest pins can be tough! I get it.
Tons of experts recommend tapping into stock photos and Canva templates to help you with this. Plus, tapping into done-for-you graphics is a huge time-saver.
PRO TIP: The purpose of your graphic is to entice someone to click on it. It can help if you add a call-to-action on your image. For instance:
Click for more recipes!
Click to read more!
Click for my best tips!
In addition to pinning your fresh new weekly content, you'll want to stay active on Pinterest, pinning an average of 5-10 images dispersed throughout each day. This includes sharing content from other Pinterest users as well as your own.
Although, while in the past it was recommended to pin mostly content from other users. It's now recommended to pin more of your own content.
Pinterest really loves fresh new content, so most importantly make sure you're creating new pins.
One of the best secrets to increasing your reach is to create multiple Pinterest graphics for each of your blog posts. Experts suggest creating 3-5 unique graphics for each post.
Personally, I pin 3 fresh new, unique graphics each day which link to my own content - various blog posts, website offerings and freebies. These 3 pins are a mix of standard pin images and info-graphics.
PRO TIP: I know, first hand, how daunting it is to create fresh new graphics to pin each day. That's why it's so valuable to tap into a source of quality Canva templates like this one to get your pins done quickly. When you keep a collection of 10 or so go-to templates on hand, you're not having to design from scratch for each post. You just plug in your content and you're done! Even better - you can batch your pins and get a full month's worth of pin designs done in minutes!
Here's a quick look at my latest pins (Notice the mix of standard pins, infographics and freebie offers)...
Since I became dedicated to pinning 3 fresh new pins each day, my reach and impressions have increased by about 100%...
You can (and should) re-pin your content to multiple boards, however, avoid repining the same image to the same board multiple times, which looks spammy. You can use a scheduling service to make this easier.
I like to use Tailwind which has helpful features that allow you to do things like shuffle up what you're sharing so that you're not being spammy.
Tailwind's shuffle option will ensure you're never sharing the same Pinterest image over and over. It also allows you to schedule out your content so you don't have to spend lots of time pinning each day. You want your pins to be balanced and spread out.
I also love that Tailwind has a plugin that allows you (and visitors) to easily pin content from your website.
Want to test it out? Get 1-month of Tailwind FREE, right here.
In all honestly, these Pinterest marketing tips for 2021 may need to be adjusted throughout the year. Pinterest will change their algorithm from time to time, and you'll notice a drop in traffic from Pinterest. Keep a close eye on changes in clicks and visitors from Pinterest so that you can catch the changes immediately and adapt your marketing strategy.
These are just a few of the best Pinterest marketing tips for 2021 that will help you expand your marketing efforts and increase blog traffic for free.
If you're ready to build a thriving presence on Pinterest, do yourself a favor and check out this stock photo membership where you'll get thousands of click-worthy images and gorgeous Canva design templates to take your pinning next-level.