October Food + Health Micro Holidays To Celebrate On Social Media
Fall is in the air, and let's be honest - we've all been lustfully awaiting pumpkin spice season!
If you love fall as much as I do, this just might be your favorite month for micro holidays as well.
With excuses to celebrate like "national pumpkin spice day" and "international coffee day", this month has the ingredients for pure joy on social media.
So cozy up with your favorite warm drink, a fuzzy blanket and your social media scheduler of choice, friend...
Here's my "favorites" list of October "food and health" micro holidays to celebrate on social media! And to make posting as easy as pumpkin pie, I've created an entire set of "October micro holidays" photos ready for you to download RIGHT HERE.
October Food + Health Micro Holidays to celebrate on social media
Quick-Reference Cheatsheet
Download this FREE quick-reference cheatsheet to help speed up your workflow.
Tips to get the most from these micro holidays on Social Media
1. Prompt Your Social Media Topics
Micro holidays can go beyond prompting a theme for a single day. You can use these special themes to prompt your topics all month long!
Here are some ideas:
1. Choose one of your favorite micro holiday themes and feature it all month long by sharing tips, prompts and insights. For instance, if you choose "National Pasta Month" you can share your favorite pasta brands, pasta alternatives, sauce recipes, and more.
2. Feature a different micro holiday theme each week. For instance, week 1 could be coffee week where you share healthful insights, your favorite bulletproof coffee recipe, a coffee quote and more.
3. Focus on a monthly theme (i.e. Emotional Wellness Month), and each day make sure your post somehow relates to that umbrella topic. For instance "if you have a tendency to eat comfort foods such as pasta when you're feeling blue, try these healthful alternatives..."
PRO TIP: Sprinkling quotes into your feed throughout the month makes for easy posting, helps create a beautiful, spacious gram, and boosts engagement.
2.

Leverage With Hashtags



As with all your posts, using hashtags related to your micro holiday posts will help you get in front of more people who are searching for the type of content you're posting.
Just a reminder, you can use 30 hashtags in each of your posts.
The more you use, the better chance you have of being discovered by your dream clients.
I've included a theme-specific hashtag for each micro holiday on the list to make it easy for you to copy and paste!
PRO TIP: It doesn't matter if you post your hashtags inside your caption, or in the comments below as long as you post them immediately when publishing your post.
3. Reach A Bigger Audience With Instagram Stories
Instagram Stories offer a great way to get in front of more people, engage them and lure them back to your feed.
Post one of our Instagram story graphics included with our
unlimited access photo membership
(you'll get access to thousands of luscious photos and graphics designed to help you grow on Instagram) and try using one of the many savvy and fun IG story features, like a poll or question to engage your audience.
For instance, you could use the poll feature to ask your audience who prefers traditional wheat pasta to Zoodles.
Or use the questions feature to ask a simple, quick-answer question, like "What's your fave GF pasta alternative?"
PRO TIP: Just like with all your social media posts, be sure to use eye-catching photos LIKE THESE to entice viewers to stop the scroll and hang out on your feed a while. This is how you connect, gain new followers and become memorable - which all leads to new clients!
Want access to all these done-for-you micro holiday graphics, plus thousands of beautiful photos, ready to grow your Gram?
Looking for beautiful photos for your blog + social graphics?
Wellness Stock Shop photos maintain a strategically natural-looking finish which makes them:
Perfect for instagram, because people want to see real, beautiful, story-telling imagery
Super versatile - they look great with iPhone snapshots (i.e. selfies, food photos, product shots, etc)
Easily blendable with just a light filter applied to your own personal photos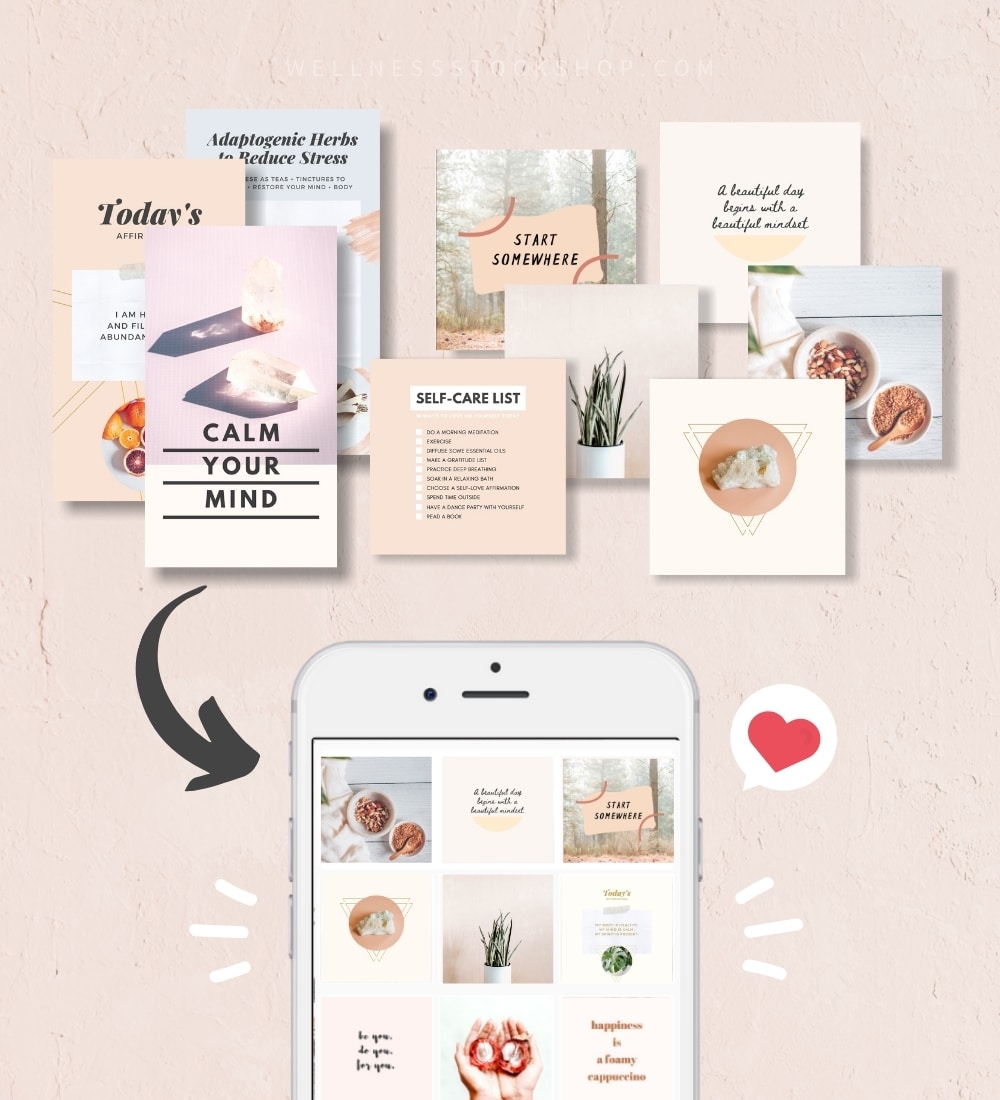 Download your FREE Social Sampler
→ 20 beautiful photos, quotes + graphics for your Instagram and beyond.