8 Viral Social Media Posts That Will Grow Your Business
Did you know? According to experts, "Educating" your followers is one of the "3 keys to Instagram success".
And if you present your educational content in the right way, it has the potential to go viral.
The easiest way to do this? Create infographics!
Infographics are amazing because they're scroll-stopping, easy to consume, and keep your followers tapping those like, share and save icons.
Plus, if you have the right resources, they can be super quick and easy to create.
As a bonus, sharing lots of valuable educational content increases your authority.
Basically, infographics are like power-posts!
Read on for some simple tips and inspirational  ideas to help you create engaging infographics for your business. Plus, I'll share how you can save tons of time and create viral infographics in minutes.
Before we dive in, I want to acknowledge that people are sometimes confused about the term "infographic". So let's clear up the confusion, shall we?
Feel free to skip to the next section if you feel clear on this.
I don't know about you but when I hear the term "infographic" I think of a cheesy cartoon-looking graphic used by big tech companies. But these days, infographics come in many forms.
"Infographic" is a loose term that can include any sort of graphic that shares information. This could be anything from a quote or testimonial to a graph or list.
The best infographics display information in an easy-to-read, highly engaging, and attractive way. (I've got a few tips to help you design engaging infographics at the bottom of this post.)
Infographics are especially popular on Instagram because they offer an easy way to provide value, while offering viewers a quick way to consume information.
They work great on Pinterest too, and are often my top-performing posts on both platforms.
Below, I've gathered 8 of my favorite  infographics styles. While you're reading through, imagine how you could use each style to provide quick, valuable content that your followers would be interested in, and - and this is important - that will help create demand for what you offer.
And I know what you're thinking, "Ugh, I don't have time to design a bunch of fancy graphics!"
I hear you. Designing these graphics can be super time consuming. That's why I recommend using design templates. All of the sample graphics I share as examples throughout this post are customizable templates that you can tap into right here.
Sharing benefits is a great way to entice viewers to try a product or service. Keep this type of infographic in mind for promoting your own products/services, or an affiliate product.
You can also share the benefits of, for instance, healthy foods or self care methods. In this style, include the product name and a few key highlights about the product.
You can be creative - list the benefits, uses, results, or even what you love about it. There are endless topics to highlight for benefits infographics
Here are just a few ideas to get you inspired:
Benefits of a particular essential oil flavor
2. Comparison Infographics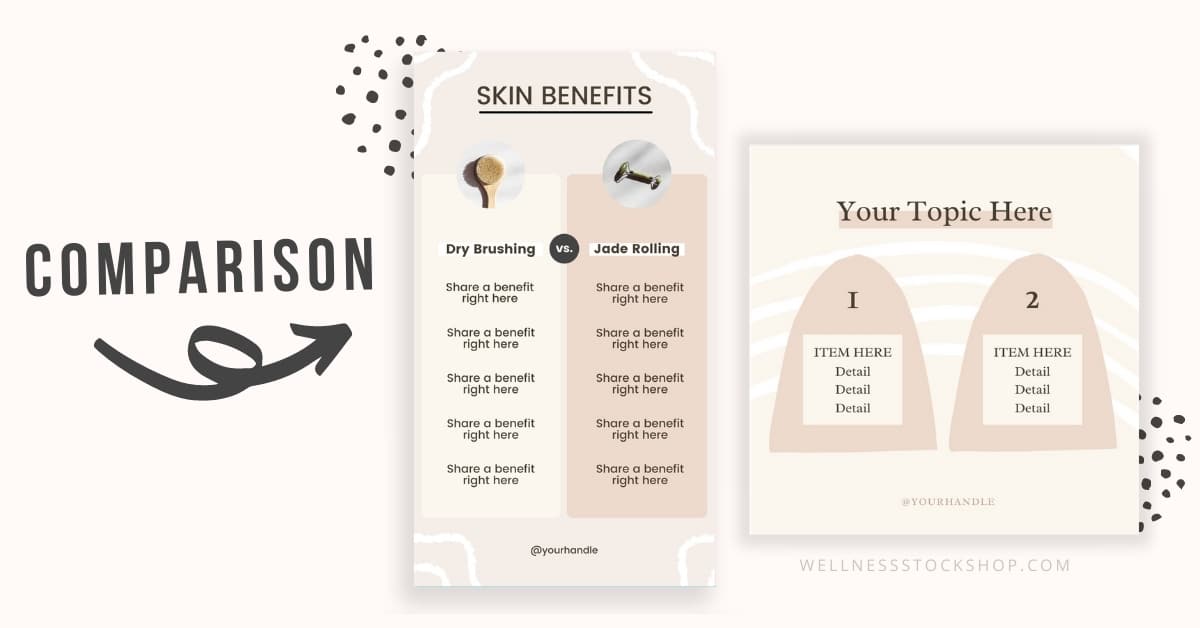 This type of infographic compares two items. These might be products, ingredients, habits or services.
Compare the nutritional benefits of strawberries versus blueberries

Compare the benefits of peppermint oil versus lavender oil

Compare two different ways of processing emotions

Compare EMDR to Somatic therapy

Compare the ingredients of a popular shelf skin cream versus your small batch cream
3. Alternatives Infographics
These are a lot like comparison infographics, but instead you'll be offering alternatives to common products, habits or approaches.
Oftentimes information will be presented in two separate columns, with your topic as the title and column subtitles like "Instead of/Try this" or "replace this/with this".
Home cleaners (toxic vs. non-toxic alternatives)

Common kitchen ingredients (replacing unhealthy staples with healthy alternatives)

Skin care products (replacing expensive products with simple, natural ingredients)

Ways to say "I'm sorry" (common ineffective approaches vs. meaningful messages)

Air fresheners (toxic vs. natural alternatives)
4. Checklist Infographics
This is one of my favorite styles of infographics, because they're just so easy and fun to create. Here you'll showcase a bullet point or checklist of items, features, or points about an item, habit, practice, method, product or service. You can make this really fun.
Your morning self care routine

Features of your latest product or service

Reasons why everyone should twerk 3 times/day

Must-have skin daily care routine products

Favorite props for your meditation practice
Uses could be presented as a bullet list also, but it deserves its own highlight. Especially because this is another great way to promote your product or service in a non-salesy way.
Uses for a particular essential oil

Uses for empty product bottles

Uses for a particular ingredient, like honey

Uses for a specific crystal
6. Flowchart Infographics
Flowchart infographics typically showcase the steps it takes to complete something or achieve a particular result. This could also be a a process flow of how a product works or steps to take regarding a new habit or self-care regimen - listed out in a progressive manner.
These can be made super simple, or you can create a bit more detailed "timeline" type layout.
Here's a fun, playful style that works well for engagement::
Low energy – Drop peppermint EO in diffuser – Burst of energy

Wake up – Drink coffee – Love life

Dead IG account – Post infographics – 10x Engagement
You can easily recreate this type of flowchart by answering these questions (I like to work backwards):
What's the end result? 

What's the remedy? 

What's the ailment or starting point?
Alternatively, here are examples of what you could share in more of a "timeline" flowchart which might include a bit more detail...
A progression of the results people typically experience when they work with you

A timeline layout of your program or challenge

What occurs when you put self-care as a top priority in life

The steps to achieving a certain result (i.e. healing your gut)

What the acne healing process looks like when using your product
This one's self-explanatory, but don't get fooled into thinking this one is only for health coaches and food bloggers. Recipes aren't only food-specific.
Examples of recipe ideas:
Essential oil diffuser blends

Non-toxic home cleaner recipes

Recipes for success or a nourishing day
8. Simple Tips or Facts Infographics
I especially love simple tips or facts infographics because they're so easy to create in a pinch. Just share a quick tip or an interesting or surprising fact! People love a quick win. Here are some ideas:
A product you love that enhances meditation

5 second de-stress exercise

A stretch  to relieve neck tension

An ingredient to add to your smoothie for a metabolism boost
BONUS! Product Highlight or Product Details Infographic
Infographics offer a savvy way to promote your products in a non-salesy way, and increase the perceived value of your products and/or services. To do this, simply choose a specific product to feature. This is the perfect way to promote affiliate products, or simply to recommend products, methods or ingredients that will help support your followers on their journey. There are the perfect social posts to add into your next promo!
3 Pro Tips for Creating The Perfect Infographics
1. Use an Impactful Title
You can think of the title and subtitle as headers that you'd use on your blog. Make sure your title is catching and engaging enough  to grab the attention of your audience. At the same time, it needs to be concise and instantly communicate to your audience what your graphic is displaying.
Make your infographic simple and easy to follow so that anyone can understand the message you're sharing and how this can add value to their life. Think about using everyday language your ideal followers are used to rather than industry terms that the average person may not be familiar with.
The most important step to grab attention and entice people to read your content is to make sure your graphics are always visually appealing. If you're not a pro designer, you can have your graphics custom designed, or save money by tapping into a source of pre-designed templates like this one (which I highly recommend).
The Best Place To Find Beautiful Social Graphics For Your Business
The one downfall of infographics is that they can be super time-consuming to create. And if you're not a designer, you could risk sinking lots of time and end up with a design that doesn't grab attention. Lucky for you, I've created an entire collection of stunning, professionally designed Canva templates with dozens of scroll-stopping infographics to tap into.
My photo members get unlimited access to hundreds of stunning templates for Instagram posts, Instagram stories, Pinterest, and even value-packed workbooks. Each template is 100% customizable to your brand. So you can skip all the time fussing with design and just plug in your info and post.
Wellness Stock Shop membership also includes an entire collection of done-for-you social graphics with popular themes like "mental health" and "mind-body". These beautiful ready-to-post gems are total time savers in those mind blank moments when you need something pretty to post. Want to test them out? Grab this social sampler with 20 beautiful social graphics for you download for FREE!