5 Top Tips for Using Instagram for Business
1. Get in an Instagram for Business Mindset
Entrepreneurs commonly flounder with using Instagram for business because they're stuck in a "personal profile" mindset.
Raise your hand if you're guilty of any of these:
Your feed looks like a personal account of your daily life.
You're afraid of offending people (for any reason at all - especially for using certain "grow your Instagram account" strategies you've heard about).
You feel obligated to "follow back" when people follow you.
You feel personally hurt when someone unfollows you.
You're worried about hurting people's feelings by unfollowing them.
It's time to get serious, button up, and create a new relationship with Instagram. Time to shift into a business mindset.
This is business. It's not personal. And it's time to get strong and use Instagram as a strategic marketing tool to get your business in front of the right people.
Read 3 Healthy Mindset Shifts for Instagram Business Success for more information on getting into the right mindset.
2. Separate Your Business and Personal Profiles
Are you using the same Instagram account as both your personal and business feed?
If you're disappointed at the stagnation of your account, this is where to start.
Your business account is not a good place to create a glorified album about your life. This isn't a place to post photos of your friends and family. The only people who will connect with those photos are the people who personally know the people in your photos.
Yes, it's important to create a connection and relationship with your audience. It's okay to post a selfie or behind the scenes look at  you in your business every so often to pop in and personally introduce yourself to your followers.
There are very select people, however, (usually public figures and artists i.e. Madonna) who can build their Instagram account as a "groupie" feed.
It's time to separate your personal account from your business account.
This could mean deleting all your personal photos from your current account and shifting it to a more professional level. Or, it could mean having two accounts if you'd like to keep a personal profile as well.
It's time to shift your focus off of you and onto your audience - how you can inspire your viewers and how you can make their lives better.
BONUS TIP: SET YOUR ACCOUNT TO "PUBLIC"
The easiest way to kill your potential at attracting new followers is to set your account to "private". Doing so sends a loud, clear message that you don't want people to follow you unless you know them. You WANT to get in front of people. You WANT them to get familiar with your brand and your message. You WANT to make it as easy as possible for new potential clients to find and connect with you. Right?
Set your account to public. Having to be "approved" to learn more about a business is a huge deterrent. If you're afraid of getting spam followers, that's okay. It's a part of doing business. You got this.
3. Use Hashtags (#Correctly)
Hashtags are essential when using Instagram for business. They're an important part of the strategic process of getting your posts seen.
If you're not using hashtags because you think they look messy, put them in the comments section below your post.
If you're not using hashtags because you don't understand how they work. It's time to put your business mind on and learn.
In a nutshell, The point of hashtags is to get you seen by your ideal audience.
Unless you're using hashtags, no-one is seeing your post except the people who are following you. If you've got a following of around 400, chances are those followers are mostly your friends and family, and not your ideal clients.
Your goal is to reach a bigger audience and attract more people who could become your paying clients.
Instagram is providing you with an incredible free tool - Take advantage of it!
If you're making posts and quietly sitting back, watching 20 "likes" trickle in and feeling sad that so few people care about your post - it's time to:
Switch that mindset mode. Remember, this is not personal, it's business.
Ask yourself - "Is my photo intriguing and did I share something inspiration-worthy?"
Use hashtags strategically as a tool to get your photo in front of more people.
So now's the big question - "How do I know which hashtags to use?"
This is a game of trial and error.
It's time to get savvy. What are your ideal clients searching for? Use those hashtags.
Instagram is about inspiring and getting inspired.
If you're not sharing anything inspiration-worthy, you're not giving anyone a reason to follow you.
Selfies and pictures of your family are not inspirational. They're what you share with your friends and family.
As a business, your focus should not be on you, your kids, your husband, your weimereiner, or every meal you eat at restaurants (unless these things are your brand, and you play it well). It should be about sharing inspirational photos, tips, tricks, recipes and info that somehow improves your viewers' lives.
It's important your posts are interesting, purposeful, and quality. If you make it a habit of posting hastily, because you're in a crunch - chances are your feed is weak.
There's a big difference in sharing the following types of images/content:
Snapshots of meals you eat at restaurants vs. styled photos of your own healthy concoctions along with your easy recipe
A spontaneous selfie with you and a client vs. a beautiful photo of your client happily drinking a green smoothie in their favorite juice bar, paired with an inspirational story/quote about how your product/service transformed their life.
A blurry picture of a pretty flower vs. pretty flowers sprinkled strategically around your favorite copper water bottle paired with the Ayurvedic benefits of drinking water from copper vessels.
If you're just posting anything and everything simply to get something posted, chances are you're not making much headway with attracting new followers or clients. And, I hate to break it to you - if your main objective is to use Instagram for business, you're wasting your time. Even worse - you're hurting your brand by jeopardizing the perceived quality and value.
When in a crunch, keep resources like stock photos and customizable Canva templates get the best stock photos here on hand to tap into when you need quality, luring content to post.
5. Stay Consistent - Always
When using Instagram for business, it's essential that you stay consistent. This includes posting regularly, using cohesive imagery and staying consistent with your brand.
Before posting an image, ask yourself these questions:
1. Does this fit my brand?
Are you staying consistent with your branding elements? Fonts, colors, etc?
Does the image fit the feel of your brand? Soft, Vibrant, Dark, Rustic, etc?
Does it suit your brand message? Are you staying consistent with what you stand for? (i.e. Your friend's chihuahua is super cute in it's polka dot bowtie, and I know you really want to share a pic, but does it suit your message of a soothing, professional wellness business? That stuff is generally best kept for your personal account.)
2. Does this image strengthen my brand?
Are you posting a quality image?
Does the image fit visually with your other images and strengthen your overall feed?
3. Will my idea client love this?
Are you posting an image based on what you think your viewers will love to see? Or because you personally like it? (i.e. Your Italian host is charming, but your viewers don't have context or connection. How is it inspiring them or improving their lives?)
Experts recommend posting at least 1-3 times per day. If you only post once per day, make sure it's a quality post with juicy content.
Do you struggle to find inspiration and topic ideas to post about, daily?
Do you have a hard time finding imagery to post and often end up posting low-quality or spontaneous snapshots?
You're not alone. This is a common issue for entrepreneurs on Instagram and it's a big reason so many businesses are unsuccessful at strengthening their brands and attracting new clients.
Instagram is very visual. If you don't have QUALITY photos to post most likely it's better not to post at all.
Resources like this high quality photo membership offer ready-made visual content offer quality imagery and inspiration for health and wellness business owners - to make posting consistently easier.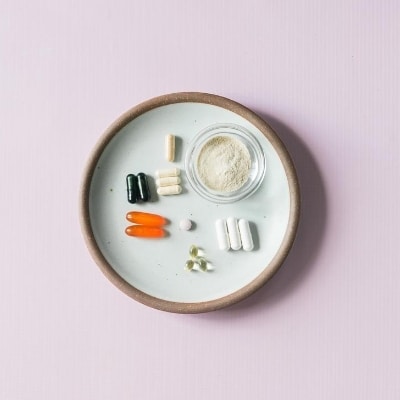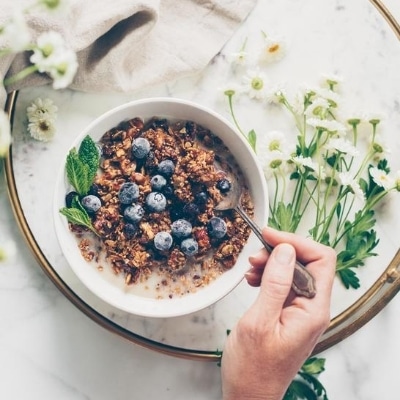 Get a free photo for your blog, social media + beyond. Delivered to your inbox, monthly. Plus, occasional offers + biz growth tips.
Get Your Free Simple Social Planning Kit
→ Posting calendar + guide, plus gorgeous templates (post, quote, carousel, story and reel bundle) to customize for your Instagram and beyond.